Businesses have a great digital marketing tool to reach out to their customers anytime, anywhere. You will be surprised, but this marketing tool is none other than email!
Email marketing is the most direct and reliable form of communication between your brand and its valuable customers. One of the major reasons why emails are so effective is their ability to offer a high level of personalization to marketers.
Email marketing personalization means addressing each individual customer personally by crafting unique emails according to the personality and preferences of each customer. In today's digital world, where every brand has taken up email marketing, personalized email marketing is no longer a choice but a necessity.
Why? Because customers love to feel special. If you provide customers information that is useful for their needs instead of generic self-promotional messages, they are more likely to develop a strong relationship with your brand.
Why Personalized Email Marketing Matters!
You might be thinking that emails are old school, but most people still use emails daily. Did you know that Emails are 40 times more effective than Facebook, Twitter, and other social media combined?
Email marketing matters because it helps generate leads and acquire more customers as compared to social media platforms.
How Personalized Emails Drive Customer Engagement
According to a study by Adobe, millennials spend around 6 hours/ day reading their emails. Personalized email marketing drives customer engagement because it is the most effective way to let your customers know that they are valued.
Here are some of the ways how personalized emails drive customer engagement:
1. Targeted and Personalized Emails
Through Email marketing, businesses segment their customers based on their preferences, which enables marketers to send them highly personalized emails. The targeted and personalized content in emails helps make customers feel more valued, which ultimately drives engagement. You can always adjust your message to make your emails more engaging and create a strong bond with your customers.
2. Helps Build Credibility
Personalized emails are great for brands that want to build credibility among the masses. Keep in mind that most customers delete emails from unknown senders or general marketing emails because they feel like spam.
Therefore, personalized emails that are tailored to a person's likes and previous shopping history are more familiar to customers. Hence, customers are more likely to click them open, which exposes them to your brand.
What is more, once they read the customized email, it helps them see your brand as a reliable brand that will help them find solutions to their problem. Thus, email marketing not only increases the click-through rate it also builds a credible image of your brand in the consumer's mind.
3. Fosters Brand Loyalty
Most famous brands like Spotify and Aliexpress are well-known because all their emails are personalized, i.e., they send their consumers' product suggestions based on their shopping and search history.
This attention to a user's product preferences creates loyalty to the brand. Secondly, Email marketing is a great way to foster brand loyalty because it offers a direct line of communication with your valuable customers, which drives engagement.
Imagine how your brand can increase brand loyalty like Spotify with personalized emails? You can offer unique product suggestions, give discounts on products your consumer buys repeatedly, and offer bundle pricing for products they frequently purchase together.
4. Strong Customer Relationships
Customers appreciate personalized emails. It makes them feel like an important part of your business. Personalized communication with the customer enhances this feeling and encashes to develop strong customer relationships.
Personalized email campaigns open a direct, regular, and sustainable communication line with the customer, which leads to engagement and trust. Ultimately, brands use this relationship to drive more sales, convert more leads, and drive more traffic.
5. Creates Excitement
People love being treated individually and personally. Your customers feel special when they receive exclusive perks in the form of personalized emails. Keep in mind that not all your customers are the same.
Therefore one-size-fits-all marketing approach will not help achieve customer engagement. Luckily, with personalized email marketing, you can run unique campaigns like give exclusive discounts to your customers and generate excitement.
According to Marketing Weekly, email marketing campaigns generate around $37 billion in retail sales per year. Use different tactics like offer discounts, etc., to increase excitement and boost sales.
Promising Email Marketing Statistics for Marketers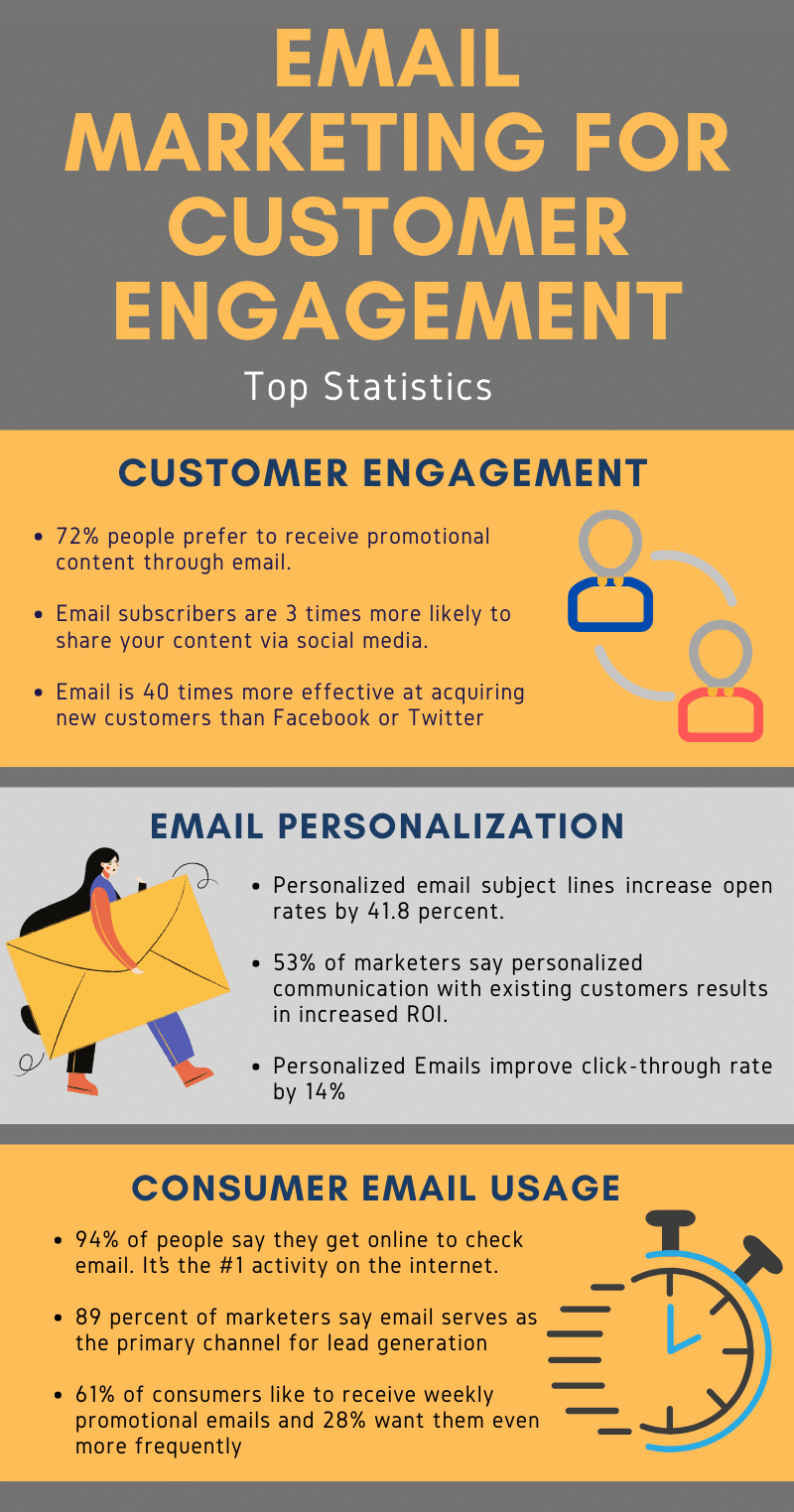 Source: Delvira
The Ultimate Personalized Email Marketing Checklist to Increase Engagement
Here is an ultimate personalized email marketing checklist from professionals that will help you achieve maximum results in no time:
1. Define Your Target Audience
The first and foremost task in creating your personalized email marketing strategy is to define your target audience. It will help you sort your audience into segments necessary to develop personalized email content.
You may define your target audience on the basis of the following criteria:
- Geographic segmentation factors
- Psychographic segmentation factors
- Behavioral segmentation factors
- Occasional segmentation factors
&nbsp
Keep in mind that this criterion will depend upon the kind of industry you belong to and the goals that you want to achieve.
Without defining your target audience, you cannot personalize email marketing and make the customers feel like you are engaging with them at a personal level.
2. Choose an Email Campaign Type
When it comes to personalized email marketing, most successful companies like Amazon, Samsung, etc., use email automation. Email automation lets businesses automate the task of sending emails to subscribers and customers based on specific criteria set by you. Marketing automation tools like MailChimp and NetSuite increase marketing efficiency through higher lead conversion.
To achieve this goal, you need to choose the Email campaign type. For example, it could be one of the following types:
- Welcome emails
- Reminders
- Special offers
- Sponsorship emails
- Newsletters
- Brand Story
- Lead nurturing emails
- Post-purchase emails
- Cart abandonment emails
3. Create an Outline
The first step is to create an outline of your email personalization strategy. When you are outlining your digital marketing strategy, ask yourself how you want to segment your customers. Review each and every part of your email before hitting the send button.
Some of the things to look out for are:
a) Subject Line: phrase the subject line in a way that doesn't feel like spam. Include perks and attention-grabbing action words in your subject line. Most importantly, ensure that it is readable on all devices.
b) Email Body: Make sure to test different content variations and choose the most optimal one that drives action. Ensure that there are no grammatical mistakes because text with mistakes loses credibility. Additionally, include relevant and useful information along with perks, such as discounts that appeal to the reader.
c) CTA: Last but not least, include compelling Call-to-Action words and make sure to include tracking links where necessary. P.s. your CTA should be clear and easy to find in the text.
4. Personalize your Email Content
The second most important thing is to personalize the email message. Here are some important considerations to look out for:
a) Location: Use the location of a customer and create personalized emails, including helpful reminders. For example, if they live in a colder region, then market coats, boots, etc.
b) Weather: Create email content and
market
products based on customer's local weather. Do not promote summer items in winter's and vice versa because then the message seems redundant.
c) Shopping history: Create email content according to the customer's recent shopping history or cart history. You can also send reminders of items they like that are on discount.
5. Use Customer's First Name
When you receive emails that start with "Dear Customer," chances are you delete them instantly. When it comes to personalization, make sure to use the customer's first name to address them. Where do you get their name? Why, you're CRM, of course!
According to a recent study, customers open personalized emails 50% more than emails that are not personalized. So, make sure to start your email with personable greetings, such as "Hello Sam! We've missed you!"
6. Recommend Products & Services Your Customers Love
Make sure to recommend products and services to your customers via emails according to their shopping behavior. You can also recommend products on sale that are relevant to their past purchases.
For example, if a customer has previously purchased a lot of stationery items from your shop, then you can email them about new stationery items, stationery items on sale, or stationery items that have been restocked.
7. Create Specialized Cart Abandonment Emails
Did you know, companies lose around $4 trillion every year due to cart abandonment! But the good news is that you can recapture more than 65% of customers within 24 carts via emails.
With personalized cart abandonment emails, you can remind your customers that their carts are full and waiting to confirm the order. You can also offer free shipping or special discount coupons to help them with checking out.
8. Measure the Results
Your personalized email marketing strategy does not end here. After you have clicked the send button, you need to measure your email marketing campaign's performance. These campaigns need to be monitored regularly to make sure it meets your revenue goals.
Here are some of the most important metrics that you need to measure to ensure a successful personalized email marketing campaign:
- Email Open rate
- Click-through-rate (CTR)
- Subscription rate
- Conversion rate
- Bounce rate
- Email share rate
&nbsp
Takeaway – Personalized Email Marketing Campaigns are the Key to Customer Engagement Digital marketing is vast, and you might get caught up in creating the perfect strategy that suits your brand. But while you focus on fancy tools and strategies, don't forget about email marketing, as it is a simple yet effective tool to increase customer engagement.
Personalized emails are a direct line of communication with the customer through which you can build trust, create loyalty, and create engagement through useful, entertaining, and relevant information.
It can help build your brand and set your company apart from competitors. With the tips and tricks mentioned above, you can create an amazing personalized email marketing strategy without breaking the bank and foster customer engagement.