The best place to hide a dead body? According to the Huffington Post, it's the 2nd page of Google's search engine results. Jokes aside, ranking on Google's 1st page is absolutely critical to the success of your online business. If your business is not ranking on the 1st page, your brand is not visible to your target audience. Here is when Search Engine Optimization comes in. SEO refers to the process of improving a website's ranking on search engine results pages (SERPs) to increase its visibility. The more visibility, the higher the website's chances of getting more traffic from prospective customers.
How Does SEO Even Work?
Popular search engines such as Google, Yahoo, and Bing, use automated crawlers or bots to crawl over different web pages. These crawlers visit page after page, site after site, and collect information from all those web pages to index. Once all this information is collected, a set algorithm begins to analyze the pages in those indexes and attempt to rank those web pages based on certain criteria. These criteria then further decide the order in which different web pages are likely to appear in search results when a query specific to them is entered or searched for on the search engine's platform. Within
digital marketing
and search engines, Google is notorious for updating its algorithm for ranking websites. The main reasons for this update are: (i) the user experience of Google's search engine can continuously improve, and (ii) because Google actively tries to fend away Black hat SEO techniques and attempts at manipulating its search algorithm.
What Is The Difference Between On-Page And Off-Page SEO?
While creating
your search engine optimization strategy
, you may come across two different categories: on-page SEO and off-page SEO. While both of these approaches are crucial to your success in SEO, they are also distinct from each other. While on-page SEO focuses on website design and content that are well within your control, off-page SEO focuses mainly on increasing authority within your website's domain. Given this difference, you must realize that the keywords that your website ranks for are determined by on-page SEO, and whether your SEO score is high or low is determined by off-page SEO.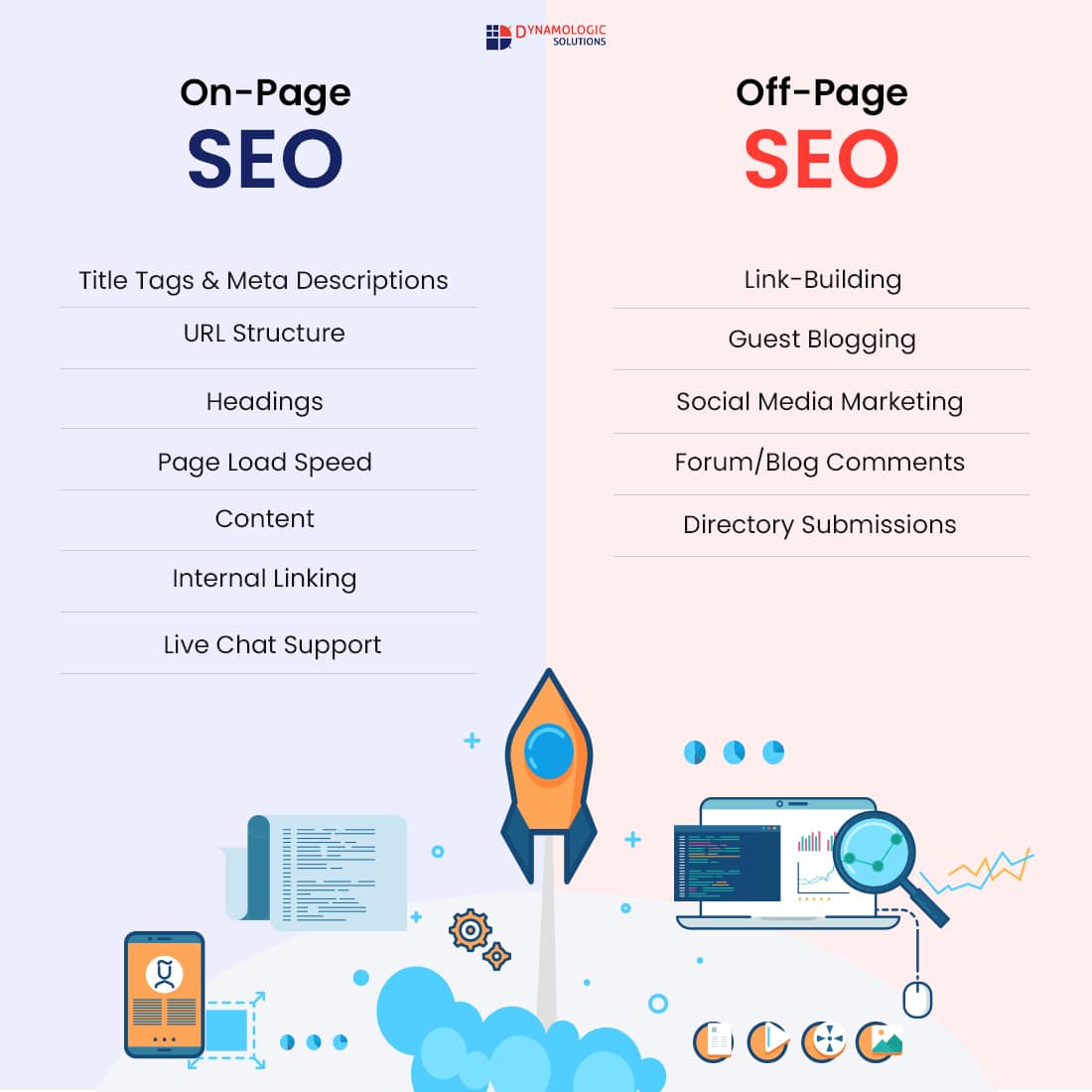 Components of On-page SEO
On-page SEO typically concerns any SEO techniques that are a part of your website and involves the following components:
1.       Title-tags
Title tags include the chosen keywords for each webpage on the website. When writing an effective title tag, there are a number of factors that marketers should consider, which include limiting the title tags to 60 characters, including the keyword, and making it sound natural, including the name of your company or brand at the end of the title tag, etc.

2.       URL structure
URL structure is an important part of your website as it helps the search engine crawler and the reader understand what the webpage contains. While it is not recommended to change your existing URLs, marketers should make sure that all their new URLs contain relevant keywords. The website's directories and folders should be labeled in a systematic manner so that they also convey something of meaning to the user. For instance, the URL structure for most online newspapers typically includes the website's name, the name of the news section, the name of the article, and its date.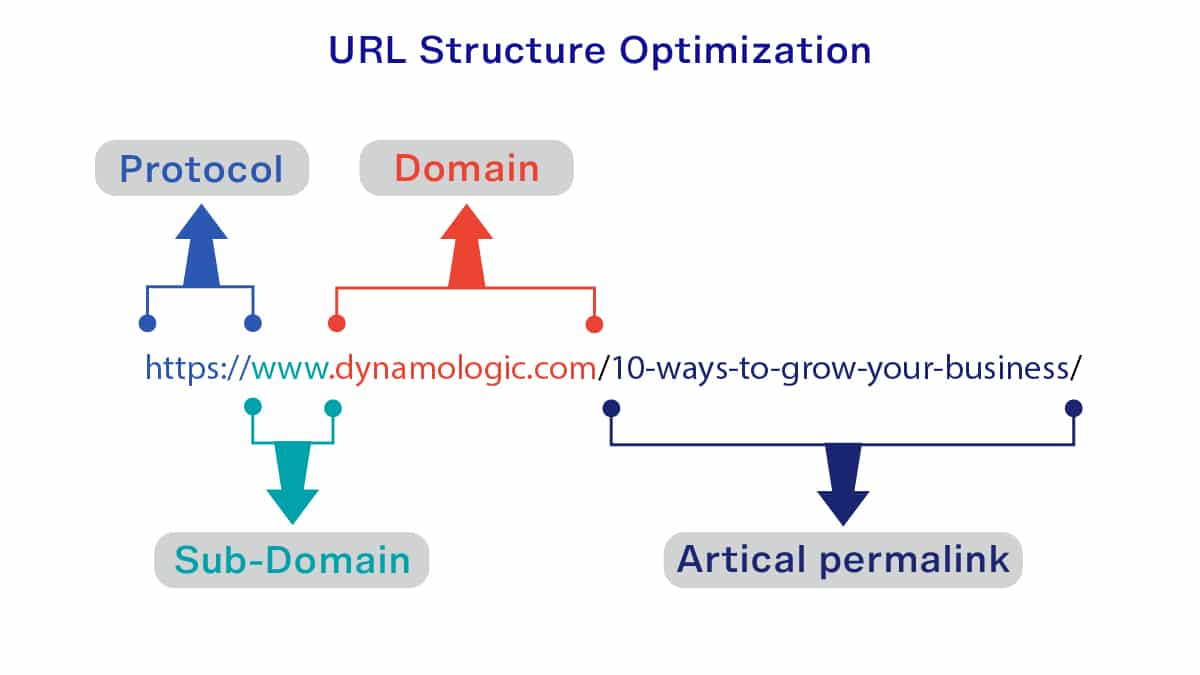 Marketers should try to keep the URLs as short as possible and ensure that the URL is readable. If the URL is gibberish, it decreases the likelihood of click-through.
3.       Headings
In terms of font size, the largest words on your webpage are likely to be your headings, and due to the large font size, search engine crawlers place a higher weightage on headings. While writing headings – including H1, H2, and H3 – content marketers should include their chosen keywords and indicative content of the webpage in the heading.
4.       Page load speed
For your page to rank high on SERPs, page loading speed is essential. It plays an integral part in your overall SEO score. Google ranks websites that focus on improving the user's experience, and hence you should optimize your web pages to load faster to achieve a higher ranking in search engine results. To improve the page load speed, marketers should minimize HTTP requests, reduce response time to less than 200 MS, enable compression and minimize image size to just under 100kb. In addition to the above, marketers can also use Page Speed Insights, a tool by Google, which analyzes a website's speed on both desktop and mobile views, and then gives tips to help optimize your page speed.
5.       Content
Your website should contain material and information that is useful for your target audience. For instance, if you run an online career counseling platform, your website should feature blogs that provide step-by-step guides, list the best courses to enhance employability skills, tips to write the
best resumes
, etc. The more value-adding the
website content
is, the higher it will rank as readers are likely to engage with it more. In addition, Google's search engine crawlers have specific criteria based on which they measure the usefulness of your website content. To comply with that criteria, marketers should take care of a few points, which are: ● Content that is at least 500 words in length, ● Unique content that is not repeated or plagiarized, ● Useful content, ● Natural keyword placement.
6.       Link Internal Pages
Internal linking refers to linking a current webpage to another webpage from your website. For instance, if you have an eCommerce website that focuses on fast fashion, and you feature blogs relating to recent fashion trends, then you probably have multiple blogs on the same or similar topics on your website. By linking similar blogposts through relevant anchor text, not only do you increase the click-through rate to other pages, but you also attempt to establish your website as an expert in said topic. As a rule of thumb, each webpage on your website should include at least 1-2 relevant internal links.
7.       Live Chat Support
Yes, you read that right. Live chat support can also improve your search engine ranking, but you have to be smart about it. You can use data obtained from web chat and convert it into frequently asked questions (FAQs) to increase ranking. Questions asked in live chat are usually questions that your readers want to know most. Hence, when people search those questions online, your website will come up in the SERPs since you would have answered the questions in the FAQs. You can use online
live chat
tools to integrate one into your website and reap the benefits. Not only will you improve your SEO score, but you will also increase customer satisfaction.
Components of off-page SEO
Off-page SEO typically works with SEO techniques that are related to the external web environment surrounding your website. Its main purpose is to increase your website's domain authority by using backlinks from higher authority websites.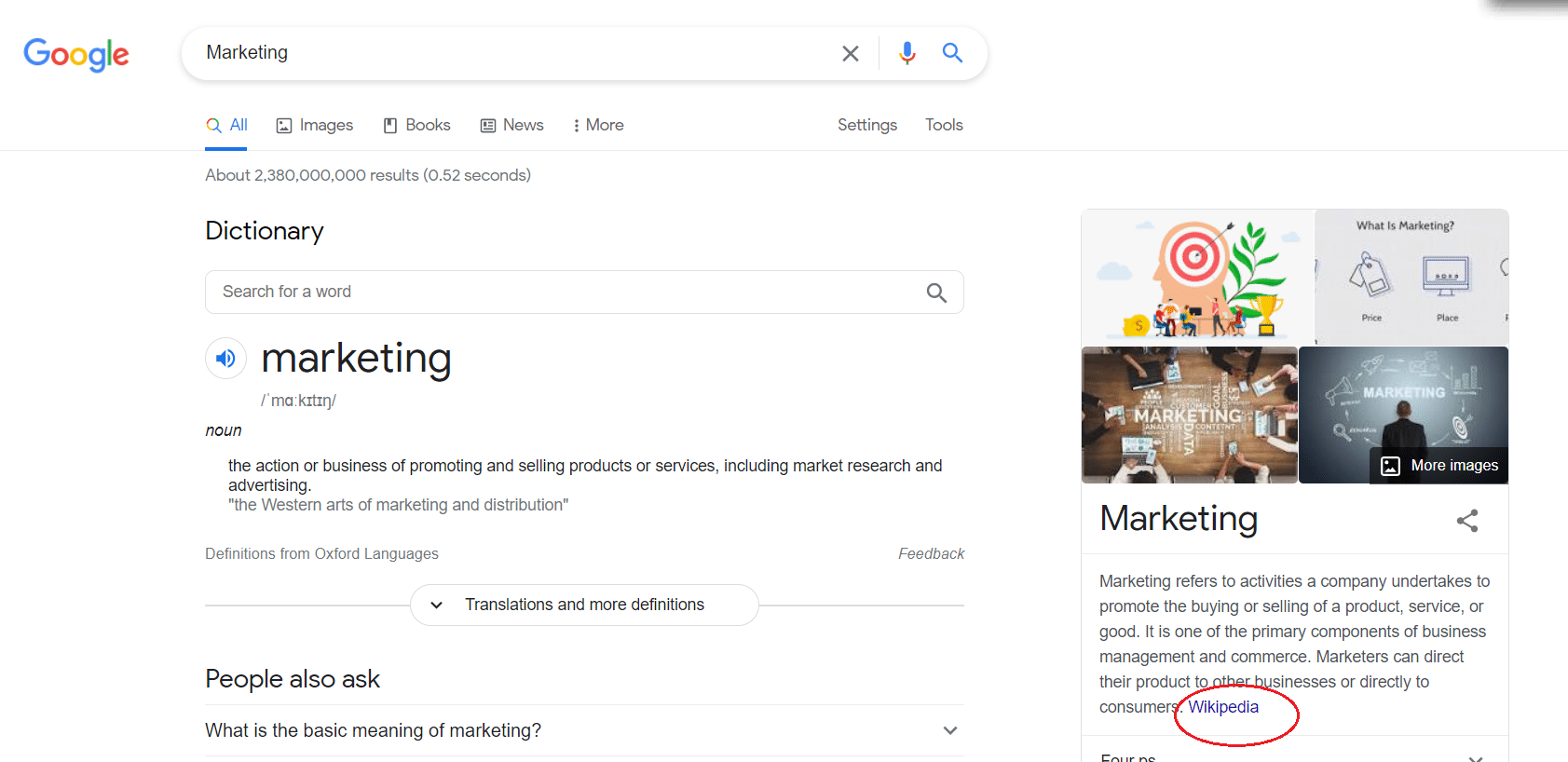 A great example of this would be Wikipedia pages – each Wikipedia page has so many relevant backlinks that whenever your search for absolutely anything on Google, its dedicated Wikipedia page is likely to show up at the number position. The main component of off-page SEO is Domain Authority, which is essentially a score that calculates just how authoritative your website is compared to other websites. Probably the most important factor that determines your website's authority is the quality of the backlinks that are placed within your web pages. To create quality backlinks, marketers should follow several tips, which include: ● Marketers should create relevant and useful content that other web pages would find valuable and accordingly link to ● Marketers should send out outreach emails to industry spokespeople and influencers that are likely to link to their website ● Marketers should consider guest blogging on websites that are similar or relevant to their domain ● Marketers should keep in mind that the quality of the backlink is always more important than the quantity &nbsp Apart from building backlinks through guest blogging, social media marketing, comments on forums like Quora and directory submissions are also proven off-page
SEO techniques
. All of these tactics help build your authority online.
Why is SEO Important?
Search engine optimization is not a technique that only selective businesses need to adopt. In fact, it is an integral part of running and maintaining a website irrespective of whether your website is a company website, a blog, or simply exists to show your organization's digital presence. Listed below are the
advantages of search engine optimization
that detail what makes it so important in the world of information technology and marketing:
1.       SEO Brings You Traffic
Given that there exist about 1.7 billion websites on the internet today, individuals rely on search engines to navigate the World Wide Web and find what they are looking for online. If an individual is searching for something in particular – say "ideas for Christmas gifts for your partner" – and doesn't find something relevant on the first page, they are likely to alter their search terms – "ideas for Christmas gifts for your husband" – rather than looking for something on the subsequent pages. Hence, not only is SEO important for you to show up on the first page for content relevant to your website, but it is also important for you to garner relevant and ideal visitors to your website. Ideal visitors are most likely to get converted into customers and stay in touch with your brand if their first experience is favorable.
2.       SEO Increases Website Position and Page Rank
Your website's position is determined by its page rank, and your website most likely has a page rank for particular keywords or phrases. Formerly, a website's page rank was simply determined by keywords – that is, if your website contained particular keywords, it was likely to show up in search results. However, Google has upgraded its page rank mechanism to depend on two major criteria, which are keywords and backlinks. In addition to having relevant keywords, your website also needs to be referred to by other websites. Webpages are likely to be ranked according to the quantity and quality of the backlinks they have, as backlinks dictate the amount of trust a search engine crawler can place in your website's content.
3.       SEO Helps You Grow Your Business
Since SEO helps websites cater to their exact audience, SEO greatly helps companies see growth in their business ventures. Instead of relying simply on advertisements, businesses can harness the power of search engine optimization and get more bang for their buck by garnering a relevant audience, potential customers and mutually creating value. If you run a business website with a good SEO score that features online shopping and a potential customer searches for products relevant to your company. In that case, they are likely to come across your website. This encounter is likely to lead to a purchase decision or at least a brand recall.
Use Search Engine Optimization to Grow Your Online Business
No business can survive without positioning its content on the 1
st
page of the search engine results. Are you a newspaper? If you are not on the first page, no one is going to read the news you publish. Are you an eCommerce store? You will only have a trickle of sales if you exist on the 2
nd
page of SERPs. No matter what your business objective, without SEO, you cannot hope to achieve it today. Through SEO, you can increase your visibility, which ultimately leads to higher conversion. And that is reason enough to
invest in SEO
to grow your business. This guide is just the first step to learn about SEO and ways to hire the
Best SEO service company
to grow your business, but there is much more to learn. Here is a useful article on other ways to grow your business:
10 Ways to Grow Your Online Business
.